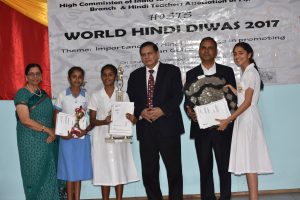 The University of Fiji hosted the Hindi Day celebrations themed "Importance of Hindi Language in Promoting Indian Culture" on Saturday, September 16, 2017.
Language has a prominent effect on culture, which eventually shapes the society. Hence, to protect culture and society, language preservation is paramount.
The Chief Guest at the Ceremony, the Vice-Chancellor, Professor Prem Misir, emphasized the significance of respecting languages other than the mother tongue.
"We need to have greater mutual respect for each other regardless of who we are, which ethnic group we belong to, which language we speak. I think as long as we continue to have mutual respect and dialogues, Hindi will have a stronger and more prominent place," he commented.
Speaking at the ceremony, Ms. Manisha Ramrakha, Head of the Hindi Department at UniFiji, said that today the Government through its education system largely supports the awareness and promotion of Hindi Language in Fiji.
Mr. Anil Sharma, Second Secretary, Indian High Commission, Fiji, re-emphasized the importance of Hindi Language and highlighted the collaborative working relationship with UniFiji.
The University of Fiji offers Degree in Hindi Language and Post Graduate in Hindi Language with the prospect of offering Masters Degree in Hindi in the coming year.
Hindi Day is celebrated on September 14 throughout the world every year.