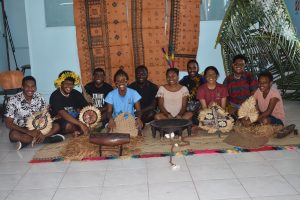 The Language, Literature and Communications (LLC) Department held the Creative Circle programme with the theme "Creativity, an Art" on Friday, September 15, 2017.
The platform fostered creativity through imaginative, artistic and inventive learners of the University.
Speaking at the ceremony, the Vice-Chancellor, Professor Prem Misir, said that the application of learning completes the learning process.
"Application of learning is the core of creativity. Discovery leads to creativity. Association or showing links and connections, questioning, observing, networking and experimenting are important aspects of the discovery process," he stated.
The programme aptly showcased the myriad talents, ingenuity and diverse culture that Fiji prides in and the University through the Creative Circle aimed to instill in its audience.
The creativity exhibited by the students of diverse ethnicity were highlights of this year's Creative Circle programme.
With success to this year's Creative Circle, the team looks forward to hosting more such events in future.