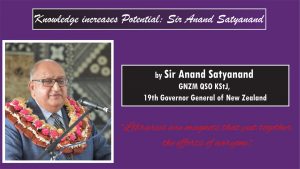 The University of Fiji held an official welcome for the 19th Governor General of New Zealand, Sir Anand Satyanand, Lady Susan Satyanand and Associate Professor Wayne Rumbles, Dean, Faculty of Law Te Piringa, Waikato University on Monday 25th September at Saweni Campus.
Speaking at the welcome ceremony, Sir Satyanand encouraged students to make the best use of every moment in acquiring knowledge to increase their potential.
Speaking to the Senior Management Team of the University he highlighted the importance of libraries particularly in Law.
"Libraries are magnets that put together the efforts of everyone," he said.
Sir Anand advised that despite the fact that Law Libraries take a considerable time in building and resourcing, libraries remain an important part of learning the law.
Associate Professor Wayne Rumbles claimed a strong connection between the Faculty of Law Te Piringa and UniFiji School of Law.
"We (UniFiji SoL and Te Piringa) have a MoU for over eight years but this has remained dormant. Professor Shaista Shameem, Dean of SoL and I are very keen to enliven it and make it a reality by means of engaging in students and committing to staff exchanges between the two Universities" he commented.
Dean, Associate Professor Wayne Rumbles, is at the School of Law to conduct the UniFiji School of Law review.
Sir Satyanand delivered the keynote address at Sir Moti Tikaram Memorial Lecture on Friday, September 29, 2017 at the Grand Pacific Hotel. Prior to that, he launched the University of Fiji Law Review on Thursday, September 28, 2017 at the Playhouse in Suva. The launch was followed by the School of Law student production of the legal tragedy Antigone.

The University of Fiji held a Careers Fair at the Saweni Campus on Friday, September 22, 2017.
Careers Fairs are useful for students as well as new graduates to look for career opportunities in the job market.
A number of industry representatives were part the Careers Fair and briefed students on the soft skills needed in corporate firms. Some industries also interviewed third year students for potential jobs at their firms.
The event was organized by the students as a University wide Fair.
Speaking about the event, Coordinator, Dr. Ranasinghe Amaradasa, said that organizing the Fair and managing it was a learning ground for students.
"Managing the fair and looking after intricate details such as taking care of guests, attending to their needs, introducing them is part of the soft skills," he said.
The University intends to host the Careers Fair as an Annual event.